Food forms a significant part of what defines human beings. What we eat and how much we eat, combined with how much we move, creates our bodies. According to the 2020–2025 Dietary Guidelines for Americans (DGA), Americans eat more and move less, which means around 74 percent of adults are obese or overweight. Alarmingly, the age group with the highest rate of obesity at 43 percent is 40 to 59 years old. Following this statistic is about 41 percent of obese people who are 60 and older. Even among children and teenagers, the rate of obesity or being overweight is around 40 percent.
These numbers are alarming because the development of most chronic diseases is related to diet. Among these diseases are type 2 diabetes, cardiovascular disease, certain types of cancer, and liver disease. About 60 percent of American adults have one or more of these chronic diseases.
MyPlate Plan and Move Your Way
The 2020–2025 DGA developed the MyPlate Plan as a simple way for Americans to make changes in every meal. In general, the plan urges people to opt for food and drinks that have little to no added sugar, salt, and saturated fat. Half of the plate must consist of vegetables and whole fruit. Vegetables include leafy greens, starchy vegetables, root crops, beans, peas, lentils, and more.
A fourth of the plate must contain grains, of which at least half must be whole grains. The other fourth must be made up of protein. Also, the plan favors varied protein sources at each meal, including plant-based protein. Choose fat-free or low-fat dairy or opt for non-dairy substitutes such as soy milk.
Currently, the dietary patterns of American adults have low amounts of vegetables, fruits, whole grains, lentils, beans, peas, dairy products, and seafood. This diet has resulted in deficiencies in dietary fiber, calcium, and vitamin D. On the other hand, American adults eat much more than the recommended sugar, salt, and saturated fat.
The DGA has also endorsed the Move Your Way program of the US Department of Health and Human Services to complement the MyPlate Plan. The program advises adults to sit for shorter periods and instead move more each day. For optimum health, adults must do intervals of moderate physical activity, totaling 150 to 300 minutes distributed throughout a week. Examples of moderate physical activity are brisk walking or dancing at fast tempos. All major muscle groups need strengthening exercises two days a week. You can use your body weight, such as in doing wall push-ups and squats.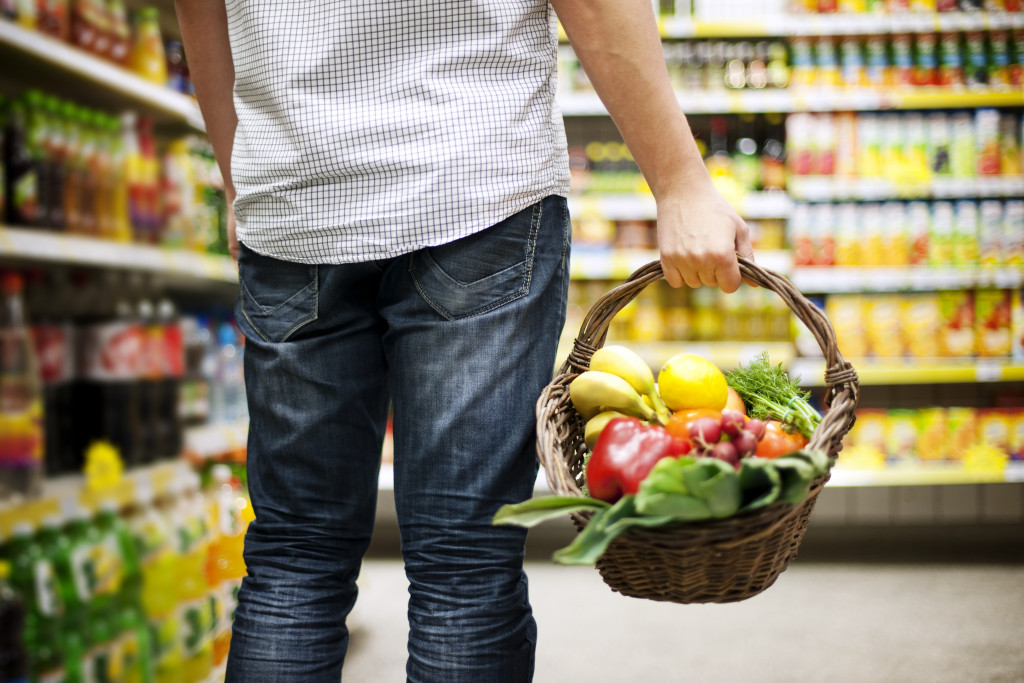 Access to Vegetables and Fruits
Vegetables and fruits are tastiest and most nutritious when fresh. Apart from your usual supermarket, check out farmers' markets. There may also be a hydroponic farm nearby that accepts orders online and delivers to your doorstep. The great thing about these farms is that they guarantee freshness since they grow fruits and vegetables in controlled environments.
Many homeowners have taken to urban farming during the pandemic. You can start small by growing a few pots of herbs and green leafy vegetables. For instance, the Million Gardens Movement, launched in March 2021, donated five thousand home gardening kits to families and students in Chicago on its first week alone. It continues to sell gardening kits that can be grown even on windowsills, fire escapes, or tiny balconies, as well as backyards. It also encourages people to donate money to provide gardening kits to families in need. According to the organization, in 2020, 9.3 Americans began gardening. The group also encourages gardeners to swap their harvests.
Adding Vegetables and Fruits to Meals
It feels good to add your homegrown harvest to your dishes. If you do not have a green thumb, buying fresh produce is the next best thing. If food preparation is too much work, you can buy pre-chopped vegetables and just throw these into your salad or casserole.
Salads can be made livelier with the addition of chopped fruits and some nuts. Make your dressing to ensure that you control the amount of salt added. Bottled dressings usually have a high sodium content. Fresh lemon juice adds zing to any dressing or sauce.
Add roasted vegetables like tomatoes, onions, bell peppers, and eggplant to your pasta. Sprinkle some chopped fresh basil over it. You can make your stews chunky and hearty with potatoes, carrots, beans, and peas, especially for cold days.
Suppose there are family members who do not like vegetables. In that case, you can secretly puree these into the sauces for pasta and casseroles. Pureed vegetables go well with fresh pureed tomato sauce. Experiment with a little at a time to balance flavors.
Whole fruits make good snacks instead of salty chips. Have a variety of fruits on hand for a quick bite between meals. You can also add it to plain low-fat frozen yogurt.
As the saying goes, you are what you eat. Now is the time to start eating and feeling healthy. By following a diet plan and taking the right steps—literally and figuratively—being healthy need not be boring.